Our first birthday at our premises in Kings Heath was on the horizon; a milestone we were excited to celebrate, so we asked Annabel, from Conjurer's Kitchen, if she could design a chocolatey treat in aid of the celebration. 
Annabel is a world-renowned chocolatier who creates quirky, edible sculptures and had, coincidentally, been approached by channel 5 who were filming 'The Wonderful World of Chocolate' a television programme which touched on the chocolate-related history of Bournville, and so an idea began to grow…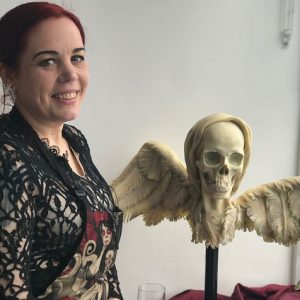 Before we knew it, our commission was the one which would be filmed and would appear on national TV. The experience was nerve-racking, partly because neither of us knew what to expect, but also because of the thought of appearing on television! Our nerves however were eased because we knew that the outcome of Annabel's imagination would be marvellous – and we weren't wrong. The Conjurer's Kitchen came up with the concept of creating an Angel of Death, entirely made of chocolate. 
Our birthday party soon came around and on Saturday 18th May along with friends, family and people we have helped over the past year, we hosted a day to remember. Annabel's chocolate masterpiece was finally revealed to us and our guests, with Channel 5 capturing our reactions as the Angel was unveiled. As you'd expect with any sculpture it was incredibly detailed and managed to completely blow us away. (It also tasted amazing)
Celebrating the day in such a way with those who have supported A Natural Undertaking was an overwhelming experience, and is one that we will remember for a long time to come.
Missed the episode? Watch 'The Wonderful World of Chocolate' on Channel 5 here.
Want to find out more about Annabel and her work? Visit Conjurer's Kitchen website and follow Annabel on Facebook and Instagram.