Prepaid Funerals – Planning for the Future
If you're at all concerned about ensuring your family are able to afford a funeral for you when you've gone, or you'd just like to make it easier for them, then you may wish to consider paying into a prepaid funeral plan.
But not all prepaid funeral plans are created equal.
It's taken us a while to find the one that we feel comfortable to share with people.
Open Prepaid Funerals Ltd is a local company and operates transparently and pragmatically.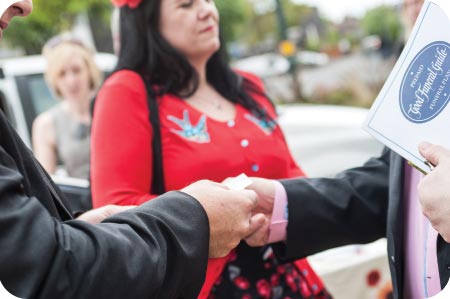 What is a Prepaid Funeral Plan?
Money is invested into a trust fund where it has the chance to grow and keep up with changes in prices, and which can only be used to pay for your funeral expenses.
Please note – there are other options besides taking out a prepaid plan – please esure you look at these to check what is right for you before making your final decision.
What has been happening with Prepaid Funeral Plans recently?
New regulation has come into force in July 2022 which means prepaid funeral plans can only be sold under strict rules and regulations. Plans are now regulated by the Financial Conduct Authority (FCA) – click this link to find out what this means for you.
In order to help us as funeral directors focus on what we do best we are only known as 'Introducer Authorised Representatives' – we can help you understand the local costs and personalisation possibilities of a plan you would like to put together, but it will be the FCA approved plan provider (eg Open Prepaid Funerals) who will guide you through, and handle the regulated financial element of taking out a plan. 
As of 29th July – the FCA have confirmed that Open Prepaid Funerals are now listed as 'intended to authorise'
What makes this plan so different?
You can read all the details on the Open Prepaid Funeral's website, but here are some of the reasons why we feel this plan is worth taking a look at:
There is one admin fee of £195 to set up the fund. No money or commission is paid to anyone else. As undertakers, if you nominated us, we would only get paid for delivering the funeral ultimately, not for recommending the plan.
You do not have to buy from a choice of packaged funerals – by choosing the bespoke option, you have the freedom to choose whatever you wish to be included from (natural) burial / cremation to style of coffin to method of transport. Your wishes can be recorded in as much detail as you want, and the money you set aside will go towards meeting your wishes. Discussions between the undertaker (if you choose to have one) and your personal representative will take place in order to enact your wishes in order to create the personal and appropriate funeral that you have envisaged when the time comes.
Next Steps
You can either contact Open directly on 0330 660 0072 and discuss the best option with them, or contact us on 0121 444 0437  to talk through your wishes.  We can help you understand the local information and personalisation involved to deliver your wishes which you might not be aware of , and the team at Open would handle the regulated financial element of taking out a plan.
We do not receive commission for helping you set up the plan – we benefit eventually where you have nominated us as your undertaker and we have carried out the funeral.