The death of someone we care about can have real and lasting impact on us and the people around us.
Often we don't realise the effect until much later.
Sometimes, talking about it with someone who is unconnected, is a really helpful way to make sense of our feelings and actions.
And just as we believe that we should help people actively participate in the creation of someone's farewell, we also believe that we should support people beyond that moment to work through the grief that they are left with, if they would like us to.
What this means is that we're now really pleased to able to offer free bereavement support as part of our service.
And this is available to anyone who is using our services at present, or at any time in the past.
Grief Support
As a member of our industry body SAIF families that come to us are entitled to use the helpline provided.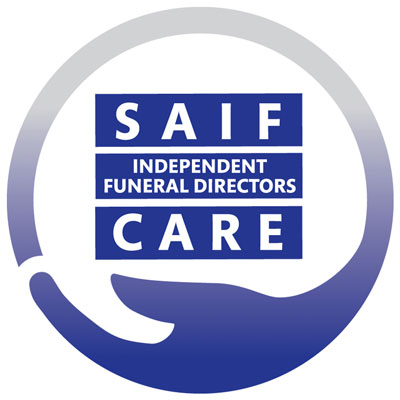 The service is called 'SAIF Care' and it provides a range of services to people who have been bereaved and are over the age of 18

Who and what is SAIF Care?
SAIF Care services are offered by friendly staff who are trained in counselling and bereavement skills and who will be able to listen to you and support you through a difficult time.

The Associate Counsellors will be able to help you to understand your experience of grief, develop self-care and coping strategies, and support you to deal with the challenges you may be facing.
SAIF Care is confidential and free of charge to people who have used our services at any time.
It is provided by Professional Help Limited, an organisational member of the British Association of Counselling and Psychotherapy.
When might you need SAIF Care support?
Experiencing a range of strong feelings after a bereavement is quite normal, however, you might wish to consider asking for support if you are experiencing any of the following:
– difficulty coping with intense feelings
– feeling unusually tired, confused and unable to concentrate
– feeling numb or empty quite a long time after the death
– having nightmares or difficulty sleeping
– your relationships seem to be suffering badly
– constantly feeling angry or irritable
– smoking, drinking or taking medication or other drugs more than usual
– your work attendance or performance is suffering
How to Access SAIF Care
SAIF Care services are available Monday– Friday, from 9am–9pm.
For more information please ask us for more details
or call SAIF Care on: 0800 917 7224