Working with our Local Community
Death is a subject that will affect all of us at some point but which is not often discussed.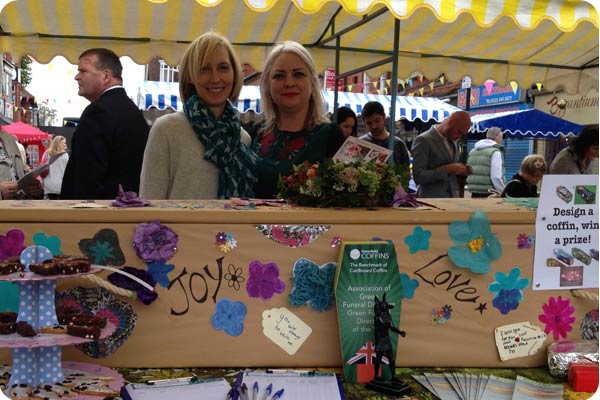 Our national lack of openness has affected the quality and range of support and services available to people who are dying and also to their families. It has impacted our ability to die where or how we would wish and it also means that we do not make 'good consumers' when the time comes to arrange a funeral.
We devote a large part of our time within our local community to raise awareness for end of life choices and to encourage discussion. This might be through organising Death Cafes or participating in events organised by groups such as the Dying Matters coalition, as a part of the local collective BrumYODO, or by running a stall at Kings Heath Street festival.
We do this because we believe that if people talk and plan in advance about dying, death and bereavement it will help to resolve any number of issues that could arise when the time comes.
These could range from alleviating expectations and family arguments about what the proper funeral should be, to keeping the family out of debt, to feeling proud in the knowledge that your loved one has had the death they wanted.
Events
You can find out more about the events we've held or will be involved in on our News page.
Death Cafes
We regularly run Death Cafes so please do let us know if you would like to be added to the email list. We can then notify you of the next dates: Get added to mailing list
Discussion blogs
We also publish blog posts on this website covering a range of topics to help inform and invite discussion.
Reviews on Google
Based on 81 reviews