Funeral Venues
Something to consider when you're arranging a funeral is the venue itself.
For many people they're clear that the place to gather will be the crematorium, or the church and crematorium or cemetery. But for others the time constraints and the feel of those places can feel restrictive.
We've helped many families to find the venue which feels right, and which enables them to take the time they need to say their goodbye.
Knowing that you don't have to fit everything into a half hour slot before moving on to let the next group of mourners in can relieve a great deal of pressure. It can also work out more cheaply if you're prepared to consider different ideas.
Below are a few examples of some venues around Birmingham that we've used for funeral services. Some of which have their own caterers, others you can bring your own food, and we know some great caterers if you need any recommendations.
Cookhill Village Hall followed by Natural Burial at Westall Park
About a mile away from Westall Park Natural Burial Ground, Cookhill Village Hall has provided a lovely, warm venue for funeral services on quite a few occasions now.
With a capacity of about 125 seated, this village hall has kitchen facilities, clean toilets and ample parking.
It's easy to get from here to Westall Park and back again if you wish to carry on sharing your memories after the burial, and is a good option if you're worried about the weather.
There are actually a few village halls in the area that we have used. Cookhill is the largest, but all are great venues, well looked after and flexible to enable you to spend the time as you need to.
The home of Joseph Chamberlain, this wonderful grade 2 listed building is managed by Birmingham Council and is rumoured to have been the layout inspiration for the board-game, Cluedo.
Highbury Hall provides a prestigious backdrop for a farewell service with beautiful grounds which can also be used in good weather. It has a bar and in-house caterers if you wish to provide refreshments during your time there.
Most families who have used Highbury Hall have opted to wave the coffin goodbye after the service and have asked us to carry out an unattended cremation for them the next day, but it would be possible to book a slot at Lodge Hill or Robin Hood after the service if needed, and still leave time to return to carry on sharing memories.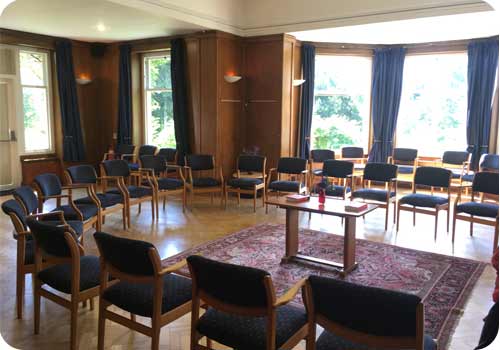 Woodbrooke Quaker Centre is a real gem of a venue, nestled in 10 acres of land between Selly Oak and Northfield. You don't have to be a quaker to hire the space here – everyone is welcome.
There are two rooms you can use depending on the size of your funeral party. You can either hire the Cadbury room or a smaller wood panelled room. Both rooms have capacity for video and slideshows and the Cadbury room even has a grand piano which can be used.
If you're looking for refreshments they can be served by the in house catering team in the lovely conservatory with doors out to the vast and beautiful gardens. Being quakers, no alcohol is allowed on the premises.
Westall Park is such a beautiful space that in fact there is no reason why you can't make more use of the time and space that they provide.
Westall Park try to only book one funeral per day meaning that you really do have the flexibility to use the space as you need.
Here's an example of a funeral where a marquee was used. It meant that there was only one venue to get to, that conversation could flow freely and refreshments could be served even before the service started.