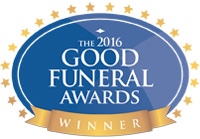 We can hardly believe that a year has passed since being awarded Green Funeral Director of the Year in 2015, and now we have been awarded Modern Funeral Director of the year at the national Good Funeral Awards 2016.
We know that a large number of families and people we work with nominated us for this award, but having seen the long list of amazing people in the category we still can't quite believe we've won. We're absolutely thrilled.
In giving us this award the judges said:
"Carrie and Fran are outstanding examples of a new wave of breath-of-fresh-air funeral business owners – what the Good Funeral Guide terms as 'artisan' funeral directors. Some call them alternative funeral directors. Typically they reject what they regard as the arcane traditions and mystique of funeral service, presenting themselves as people first, funeral directors second."
We simply want to make sure that people are aware of their choices; that they know that their goodbyes can be personal and can reflect our individuality and the way we live our lives today – and they don't have to cost the earth. Receiving this award is an amazing recognition that we are achieving what we set out to do.
We thank all the families who cared enough to nominate us, and all our friends and supporters who have inspired us do what we do.
For more information on the Good Funeral Awards 2016 – visit their website
For our thoughts on what it means to be a Modern Funeral Director – see our blogpost