It's been a little while since we've written a blog; the events of the last year have been somewhat disruptive to our normal routines, and everything else seems to have paled into insignificance when considering what's been happening aorund us.
But after months of adapting to new ways of living and working we're really pleased to share some of the work we've been doing with our fellow directors at BrumYODO.
The last year has been a challenging time for everyone, and as undertakers we've witnessed first hand the grief and isolation that COIVD19 has brought to many people's lives. We're very aware that the restrictions placed upon us will have seriously impaired our ability to grieve effectively as individuals and also collectively within our wider family groups and communities.  Because of this, we have been working hard to ensure that this year's A Matter of Life and Death festival goes ahead and that it should incorporate plenty of discussion, shared experiences and community memorial at its very heart.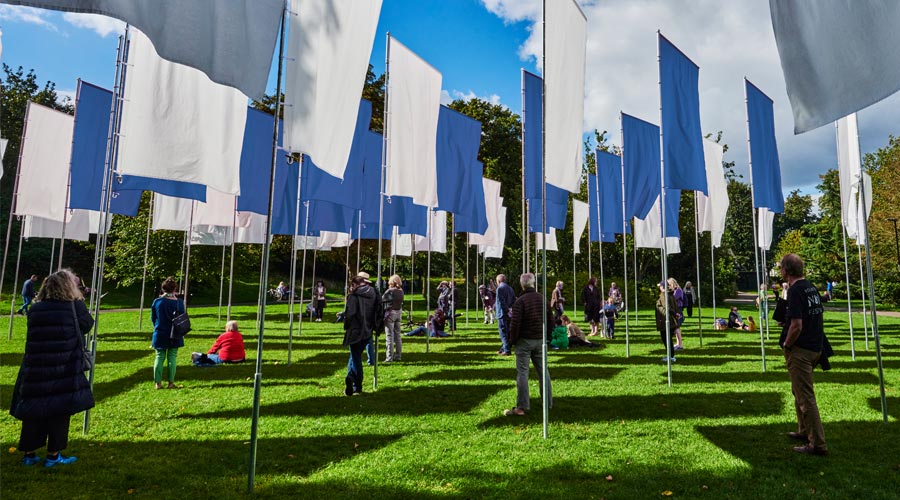 In Memoriam
The festival has been running throughout April and May – mostly online, but culminates this week, 8th-16th May, with an incredible art installation 'In Memoriam' from renowned artist Luke Jerram. It was developed for the public to visit to remember all those who have died during the COVID-19 pandemic, and to pay tribute to all the NHS health and care workers who have been risking their lives during the crisis.
The installation is at Aston Park – information on how and when to visit can be found by clicking this link.
Getting Involved
Whilst we're still subjected to social distancing rules, the artwork has been set up to be COVID safe for visitors and so it is perfectly possible to visit the attraction and stroll among the flags.
There will be refreshments and a BBQ available over the weekend of the 8th May, and a flag making workshop will be in action on Sunday 9th May between 11am and 4pm.
A series of online discussions have been taking place – you can catch up on them by watching the videos via this link
The next 'In Conversation' will be hosted by our very own Carrie Weekes taking place online this coming Monday 10th May and looks at the fundamental role that creativity and community plays in times of crisis.
– places are free but you need to reserve your place via this link
Making Your Own Flags
We realise that many people won't be able to travel to Aston to see In Memoriam in-person, and so we are inviting everyone to get involved in this project by making a personal, handheld In Memoriam inspired flag. On the website you'll find a 'how to make a flag' video and a written guide on how to make your flag out of fabric, paper or card.
There's also a photo gallery where you can see flags that other people have made, and we'd love you to upload photos of your flags to the gallery.
BrumYODO can also be followed on social media; Facebook, Twitter and conversations can be tracked using #LifeDeathBrum.