Saturday morning, it's 8.30am and I'm off to Stourbridge to support the launch of a new group called 'Coffin Club in Margaret's Memory'. 
Perhaps not everyone's idea of the perfect Saturday and after a busy week I have to admit I was feeling slightly anxious about all the jobs at home that were waiting for me. However, on arriving at Wordsley Community Centre any thoughts of washing or cooking went straight out of my head as the team went out of their way to make me feel welcome.
It's been a while since we've been a part of such an event; COVID and the growth of our company have meant we've not able to get out and about in the same way we had previously, but I was soon reminded of the importance of such events, and what amazing and inspiring people we work alongside.
Why we were there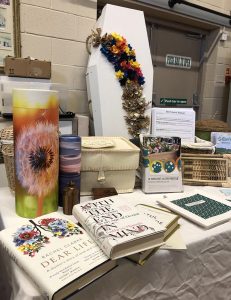 I was one of a number of companies and individuals who had been invited to support the launch of a Community Interest Company in Stourbridge – helping their local community to learn and talk about death, dying, grief and change in a creative and open environment. All too often people don't understand what their options are at the end of life, and because of this they miss out on having the kind of death they would want, and their family and friends are less prepared as a result.
And with such warm and friendly surroundings it didn't take long for the conversation to flow, and as people often find to their surprise, the laughter too.
The team had invited organisations and individuals who support people at the end of their lives, as well as people like ourselves who support the friends and families after those people have died; from hospice teams, doulas, wellbeing and mental health therapists, to florists, authors, celebrants, funerals directors and crematorium staff. It was even possible to have cuddles with Bonnie the Therapy Dog. (You can find a full list of attendees below) 
Ensuring a Good Death
In addition to the people listed above, the Coffin Club team put on a schedule of speakers, beautifully facilitated by Alison Lester who also told us of her book, 'Absolutely Delicious: A Chronicle of Extraordinary Dying' – the story of her mother's decision to forego treatments that might have prolonged her life, in order not to ruin her death.
Preparing our future adults
John Adams, currently president of the NAFD, spoke to us of his efforts to get death and dying on the national curriculum in schools. This is something we've also wanted for a long time: talking about death and dying needs to be a natural part of life – if young people are able to have these conversations then eventually everyone will feel it's ok to talk about it. Not only that but we should be equipping our young people with the skills to deal with the inevitability of death – it happens every day in schools as parents and grandparents die – sadly many children do not get the support they need because people don't know how to approach the subject with them.
John has started a petition for the government to add content on death, dying and bereavement to the national curriculum – please add your signature by clicking this link
A GP's perspective
Becci Taylor – a GP spoke of her experience when her father died last year. How this experience has helped her to support her own patients as a GP, what grief has done to her and how she's channelled that into a blog – Bereavement and Beyond
We heard from a Doula in-training, lay chaplain and author Betty Fleetwood talked to us about her experiences as a child and subsequent life choices, and Shelley discussed the benefits of working as a celebrant.
Look out for the next event
The questions and conversation that resulted from the talks were wonderful and thought provoking. I'm sure that Margaret would have been really proud of the launch event put on in her name by her daughter, Louise and her friends and colleagues. If you get the chance to attend another event by "Coffin Club in Margaret's Memory" then please do take the opportunity. You won't be disappointed – and will definitely be served with cake!
Huge thanks and the best of luck to CCIMM CIC Directors, Louise, Donna, Ellie, Bettie, Suzie and Shelley.
www.coffinclubinmargaretsmemory.co.uk
Follow them on Facebook
List of attendees.
Mike Wood MP
Hickton Family Funeral Directors
Alison Jean Lester
The Mary Stevens Hospice
A Natural Undertaking
Waseley Hills Crematorium
Rainbow Wellbeing Hub – Kerry's Drawing and Talking Therapy
Time to Heal Together
H Porter & Sons Funeral Directors
SimplyAlpaca
SJWCelebrant Celebrate Life
Eva & Alma
Winnie & Olive
Bereavement and Beyond
Perry & Phillips Funeral Directors