In June, Carrie and I took to the stage at mac for the Aston University TEDx event, Beyond The Box. This event celebrated those who often go against the grain to flex their own creativity, even during the darkest of times. 
We chose to speak about what made us change careers and become undertakers five years ago, and what we have learned since then that we wanted to share. 
Being an undertaker isn't solely about arranging a funeral or looking after the dead, it's also about the intense and important process of working with the people that are left behind.  We try and help people to make the right choices for them and the person who has died, and to have a funeral which reflects the life lived. We believe that your relationship with your funeral director at this time can be a truly transformational experience, given the right circumstances.
The right relationship can give friends and family the opportunity to make the important decisions during hard times, even when they thought they couldn't. When a person with a long term illness has been cared for by doctors, it's often daunting for those people that are closest to start making plans and arranging a funeral. Many people feel as though they have limited choices, but this isn't necessarily true. So during our talk we spoke about how it's our job, as undertakers, to inform and educate people about the many services and options available; to empower them to make the right choices as well as helping them to fulfil the wishes of those who have died.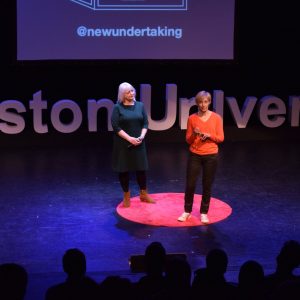 At A Natural Undertaking, it is our aim to ensure that people know they have more power in this situation than they realise, and that there are many more choices out there than convention would make us believe. It was a huge pleasure to be able to spread this message and play a part in such an inspirational TEDx event. We were nervous – it's a very daunting experience – but the team gave us great coaching and we hope the final video will be both useful and inspiring. 
We would like to thank the incredible team at Aston University TEDx for giving us the opportunity to be involved.
We'll keep you posted if our video makes it onto the TEDx channel!
For more information, please visit Aston University TEDx on Facebook and Twitter.