This May, Birmingham hosted the 3rd annual 'A Matter of Life & Death Festival' organised by BrumYODO.
The nine-day event was jam-packed with various death-themed activities, all with an aim to provide a safe space for open discussion about death, dying and mortality. This year was extra special due to the wealth of creativity and imagination that was poured into it by friends, collaborators and a variety of local venues. 
The first day saw a sold-out showing of A Life Of Brian at the Electric Cinema. Presented by Conjurer's Kitchen, it was one of their infamous  eat-along experiences with scrumptious bites such as chocolate pebbles and death-inspired treats. 
The Birmingham Hippodrome put on an exclusive showing of Orpheus, an ancient story of love, loss and adventure. A fitting myth that explores what lies beyond death and how we live with grief.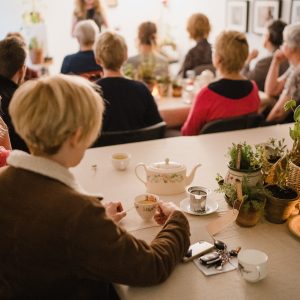 Across the city, many people came together to take part in different Death Cafes.  Death Cafes provide an environment in which people, usually complete strangers, can openly discuss death and dying over tea and cake. Their aim is to increase awareness of matters related to death to help people, young and old, and to encourage them to make the most of their lives. 
Death and art also came together in the form of talks and tours around both the Birmingham Museum & Art Gallery, the Barber Institute and the Coffin Works museum. Events such as these brought a different perspective on the subject of mortality, opening up deeper conversations and shedding new light on the topic of death and dying.
A highlight from the week was the first-ever open day at Sandwell Crematorium. The crematorium opened their doors so the public could experience being behind the scenes at an operational crematorium. The team there were over the moon by the number of people that attended on the day.
As well as working behind the scenes with the rest of the BrumYODO team to plan and organise the festival, Carrie and I ran our popular "Funeral Wishes" workshop at the John Lewis Community Hub. This workshop is aimed  at helping people plan their own funeral, and in doing so to understand the choices that are available to them.
Throughout the festival public attendance was brilliant and most events were sold out. We are so pleased that awareness of this unique festival continues to grow and people are seeing the benefit and importance of having these conversations.
For more information visit BrumYODO and join the mailing list for updates.