Unveiling our new eco hearse
It may seem an unlikely subject to enthuse about, but we're really excited to unveil the new member in our team – well actually it's our new car; and it's an eco hearse.
We're not huge car enthusiasts here at A Natural Undertaking but we do feel this news is something worth sharing. Our new car is 100% electric, it's a converted Nissan Leaf and is white, just like our current Chrysler Voyager.
It's also the first electric hearse to operate in the Birmingham region.
A Leaf Like No Other
Converted by the team at Brahms, it will offer a more traditional hearse-like-service with the window down one side. This will mean the coffin and flowers can be seen, but will feel less formal than a traditional black hearse.
At just under 4.5m long it really is a dinky hearse, but it will be able to carry coffins up to 6.5 feet long on its natural oak style deck.
There's a seat in the car if anyone wishes to travel with the coffin – this might sound strange but plenty of families choose to do this currently in our Chrysler; and since the Leaf has near-silent cruising it allows for a calmer final journey.
Being 100% electric it also provides another option for those who are concerned about the environment. If you choose natural burial and a coffin made from biodegradable materials you can now also arrive at your funeral in style and in an eco hearse. As a company we are trying to build "green" into everything we do. Our electric hearse is pollution free- helping air quality in built up areas in Birmingham.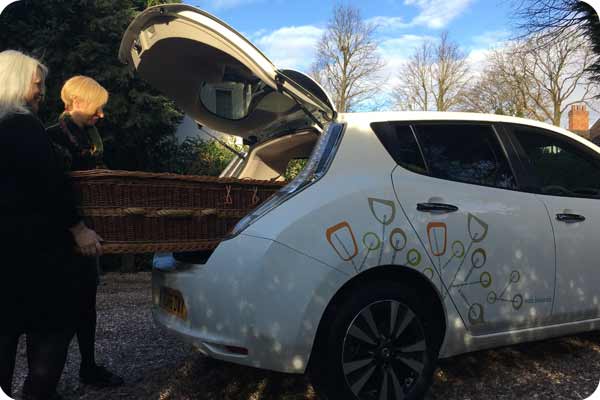 Reaction from families since it arrived a week ago has been incredibly positive, and whilst nothing can make you feel better about the fact that someone has died we hope that this new option can help make your farewell a little softer round the edges.