Spend Less and Keep Funeral Costs Low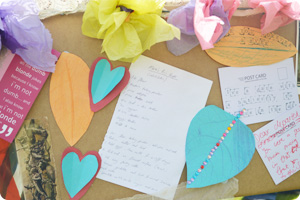 We always encourage families and friends to only pay for what's needed and to look to creatively deliver other aspects of a funeral themselves.
Below are some elements of a funeral you might wish to take into account, but perhaps consider doing differently.
[list line="no" style="style1″]
Coffins – you can get some basic and totally acceptable coffins very cheaply. The amount you spend on a coffin does not reflect the amount you love someone. If you're looking for something more personal, go for a cardboard coffin: decorate it yourself or invite friends and family to join you. Have a bamboo shroud instead of a coffin, or just buy your own. Find out more in our Frequently Asked Questions.
Embalming – not necessary in most situations. Make sure it's not included in a package as "hygienic preparation". At A Natural Undertaking we will only embalm if expressly asked.
Visiting the deceased – sometimes visiting is charged as an extra, have the person who has died brought home on the night before the funeral so that family and friends can visit. We can help you do this.
Flowers – hand picked from the garden.
Celebrant – take control and lead the ceremony yourself. Get everyone involved in saying something. Be brave- it's not a show. Genuine emotion and passion are just as important as a well constructed eulogy.
Orders of Service – most people have access to a computer and a printer. Get someone to help with the design and print off enough copies. Kids are usually very good at designing these days.
Venue – think about not using the chapel at the crematorium. Go somewhere which has personal meaning. Pub, park, church, garden.
Cars – you can hire a hearse, use your own transport or use ours. Think about whether you really need a limousine.
Pallbearers – use family and friends. Use a trolley or coffin bier.
Catering – do it yourself. Get everyone to help. Funeral food is a tradition observed differently in different cultures, but we all have it, and for good reason.
Newspaper tributes – will the people you need to reach notice these in newspapers? Can you harness the power of social media?
[/list]
For more advice on keeping funeral costs down take a look at websites such as the Quaker Social Action website