What you need to know
On the 26th March the law was changed in a number of areas to enable the registration of deaths and funeral arrangements to take place more easily under the current coronavirus lockdown situation.
Registering a death
When someone dies, the hospital, GP surgery or hospice will send the paperwork they would normally give to families, directly to the registry office.
Registry offices are asking families either to phone or send an online contact form to them; they will then contact the families once they have received all medical paperwork.  There is no requirement currently to physically attend the registry office.
If there is no one able to register a death the law now enables a funeral director to do this.
Here are some links to local registry office pages for you so you can identify the specific actions relevant to you: (the registry office you need relates to the physical location of the person at the time they died, eg they may have lived in Worcestershire, but died in a Birminghan hospital – Birmingham would therefore be the appropriate registry office)
Birmingham
Solihull
Worcestershire – including Redditch and Bromsgrove
Sandwell
Once you have completed the registration over the telephone, the registry office will then email the green form required for the burial or cremation directly to the funeral director.
It is therefore important that by the time you register, you know which funeral director you will be using.
What if the death was unexpected or the person died at home?
If the death was unexpected you should dial 999 and it is likely the death will be dealt with by the local coroner.
If it was expected you should call the person's GP or on-call service.
Usually the medical certificate of cause of death has to be signed by the medical practitioner who saw them within the last 14 days of their illness. Since the Coronavirus Act came into force any medical practitioner is able to do this, even if they never saw them before they died, as long as they can state to the best of their knowledge and belief the cause of death.
Such deaths will only be referred to the coroner if there is no one able to do this within a reasonable time of the death, or the GP has other concerns. It's important to note that Coronavirus in and of itself is not a reason to refer to the coroner.
Funerals – What is currently possible?
It is still possible to hold a funeral service in the West Midlands – although there are limitations being placed on what can be done, these rules have been changing and may continue to change in the weeks to come.
Crematorium and cemeteries are the only venues open for funerals but they are limited to members of household and immediate family members (see our coronavirus page for details on specific local guidelines).
Social distancing rules must be adhered to at all times – as such, seating will have been reduced and re-arranged in the chapels.
It is possible that certain crematoria, in order to reduce the number of people touching the coffin and to observe social distancing rules, dictate that families will not be allowed to carry the coffin into the chapel themselves.
Where they have it installed, most crematoria are currently offering webcasts free of charge so that other friends and family members can be a part of the ceremony.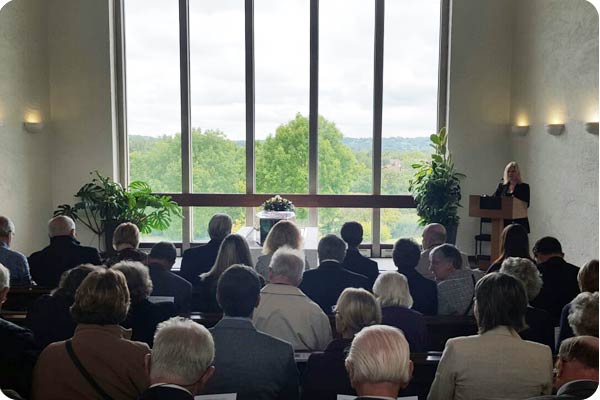 How can we help?
We are really conscious of the impact that the mandatory attendance restrictions, the need to choose who can attend, and the limitation on funeral venues will be having on people's ability to grieve well.
We need to observe important social distancing rules in order to keep our staff safe and ensure that vulnerable people are not placed at greater risk; so, whilst we may have to insist on adhering to the new rules, we would like to help by including any of the following into to what we are able to do already:
A webpage with slideshow, messages and orders of service
We've always included a webpage within our service to help notify friends and family about the funeral and give them details about the day. Whilst many of the details won't be relevant at this point in time publishing the page can still be helpful as it can provide a focus for memories and messages from friends.
We can now also include a slideshow of photos on this page if required, and if you choose to have an order of service produced we will happily publish it on this page too.
Driving past peoples' homes
We know that less people will be able to attend the ceremony so we're happy to plan a route which sees the hearse drive past as many of the family and friends' homes as possible within the hour before the funeral. We would drive past slowly so that friends can observe and honour the person who has died from the safety of their own homes. If orders of service have been produced we could post them through the doors as we pass.
Audio / video recording of the ceremony
Where webcasting is not possible we will happily record the service for you and provide you with the file afterwards so that you can share with those that could not attend.
Online virtual interactive ceremony
At the moment immediate family members are allowed to attend but only if they are not displaying symptoms of COVID-19, and some people may be concerned about attending due to their vulnerabilities.
We are currently working on developing a professional online interactive ceremony in conjunction with a number of celebrants which would enable up to 100 people to participate from the safety of their own homes. During this ceremony we envisage people being able to contribute as they would in a physical setting, hear music that is meaningful, and ultimately share in a ritual that, whilst not perfect, can help bridge the gap that coronavirus has forced between us.
If this is of interest to you – please do ask us about this.
Contact Us
If you have any questions about coronavirus/COVID-19 and funerals, please don't hesitate to get in touch with us by
calling 0121 444 0437 or by emailing funerals@anaturalundertaking.co.uk